The Alpacas & Our Sheep
Roosters, Hens & Chicks
Duckie Doodles
The Cluckin' "A" Dogs
The Farm House
Duck & Chicken House
The New Barn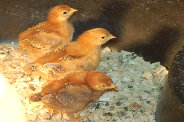 Pupskill Bay Lake
and the Grounds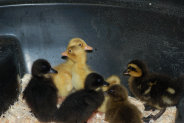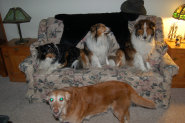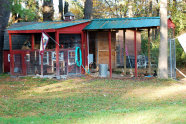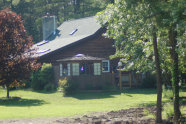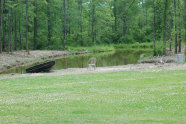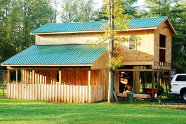 The Alpacas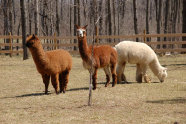 In the Fall of 2008, Vicki and I went to the Dutchess County Fairgrounds to attend the New York sheep and wool festival in Rhinebeck. It was there that we became interested in Alpacas for on the farm. Previously, we were considering miniature donkeys, but upon investigation, we found that they are difficult to handle at times and would really not give us any type of a return on our investment except to be able to watch them. The alpacas, however, would afford us some of the finest fiber available for processing or selling. Our plans were to process the fiber into skeins, dye it and knit items we could then sell in the hospice gift shop to help raise funds for hospice. We would also be able to sell some of the fiber or yarn to help recover some money spent for their keep here on the farm. We also found that having alpacas was very therapeutic and promoted a serene calmness within us as we watched them eating grass. It was then that we both decided we would have alpacas on the Cluckin' "A" Critter Farm as soon as we could. We found Alpacas-4-Pets in Coxsackie and got to know Isabelle and Ralph Acampora, the owners. We visited their farm several times and arranged to buy a pair of her rescue alpacas. Shortly after bringing them to the farm, we found another baby alpaca in Monticello which was eleven months old and beautiful, so we bought him, expanding our herd to three males.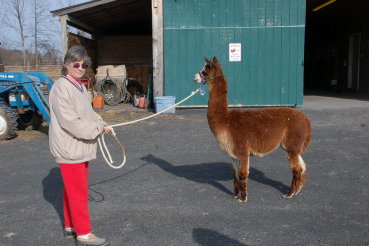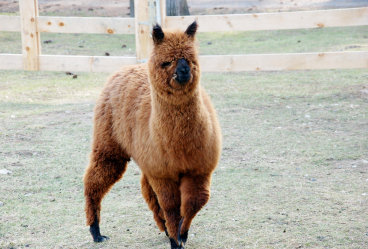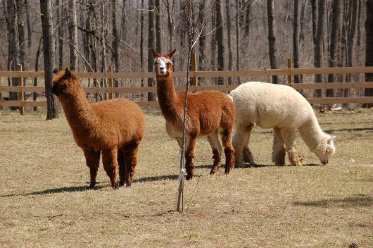 Vicki and Luke
Isabelle and Iggy
Bollero... our baby
The Boys in our Pasture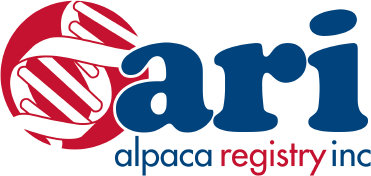 The boys after shearing day
The "Bunny Brothel "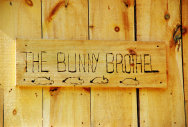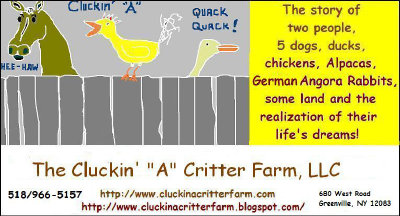 Boys in the Pasture

And Then It Happened
In late winter or early spring of 2010, Vicki started to pursue her spinning more earnestly and moved into the raw wool arena. She processed several pounds of local Montadale wool and spun it out into some beautiful wool yarn and wove a scarf or two before deciding that she really enjoyed working with sheep's wool just as much as Alpaca and Angora. In many ways, wool is much easier to work with than the other two because of the crimp in the fiber staple length and it is much less slippery too. Vick's friend Dawna, a fiber artist from Athens, New York, also loves working with wool and has always wanted to keep and herd sheep, but living in the confines of the town, she couldn't.........until Dawna and Vick met!
That day was the beginning of a fantasy come true for Dawna and Vick both. Vick told Dawna to keep her eyes and ears open in her circle of fiber friends, because she was thinking of getting a sheep to keep for the wool fiber. She considered only one, since they would herd well with the alpacas and not be lonely. A few days later, Dawna called Vick to tell her she had found a sheep with award winning fleece which could be had for free if we would provide him a good home. Vick jumped on the offer and informed Dawna that she was welcome to keep sheep here if she really wanted to own one. Dawna decided to purchase two lambs from the lady giving us the adult sheep and Vick became a sheep owner and Dawna became a full fledged sheep herder herself. Both Vick and Dawna were elated at the new adventure they both embarked upon. Now we have Herbie, Ed and Norton browsing around in the pasture....happy, contented and adopted as if they were baby alpacas. Luke and Iggy LOVE them!
The big guy is Herbie.... The little white dude is Ed and the black sheep of the group is Norton. Below are more random pictures of the sheep and alpacas.
A Happy Luke.....
Vicki Neckin' Around With Iggy. Sadly he died on 5/31/2011.
Born 8/7/200 - passed on 5/31/2011
He will be missed, BUT not forgotten.....